It doesn't matter if you're headed to Alaska, Mexico, or somewhere warmer like Florida or Central America – or even your home state with a local guide for that matter – there exists a certain etiquette in the charter fishing world.
1. First impressions go a long way
If you want to ensure your day gets started on the right foot ask your captain for permission to come aboard before stepping into the boat. The boat is their office, their livelihood, and where they spend most of their waking hours, so you can bet it's near and dear to them. You can also book a charter fishing tour via https://povertysucksfishing.com/ for the best experience.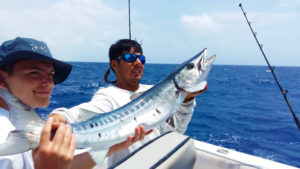 Even if they are waiting for you and give you a warm greeting, asking for permission to come aboard is a great way to instantly get on the captain's good side and subtlety shows them respect.
2. No bananas on the boat
The VAST majority of fishing captains hold fast to this belief: man or woman, expert angler or beginner, don't bring bananas on the boat.
Some captains take this superstition to next level and don't want anything with even the word 'banana' on the boat like Banana Republic clothing or Banana Boat sun lotion.
3. Tell the captain what you want
Communicate with your captain what kind of fishing experience you're seeking. Fishing captains are skilled at reading the weather, water conditions, and fish behavior – not your mind – so if you don't tell them what kind of fishing day you want to have there is no way they can help you achieve it.
Whether it's at the dock before you push off, or better yet, days before your actual fishing trip, communicating your desires is key to a successful day of fishing.